The official training site for Canada's largest open water swim event, Kelowna's Across The Lake Swim. Swimmers here know it as the safest and most accessible freshwater open water training area in Western Canada. Period.
Today's Okanagan Lake Water Temperature
5.5°C
Updated: Feb 14, 2023 5:24pm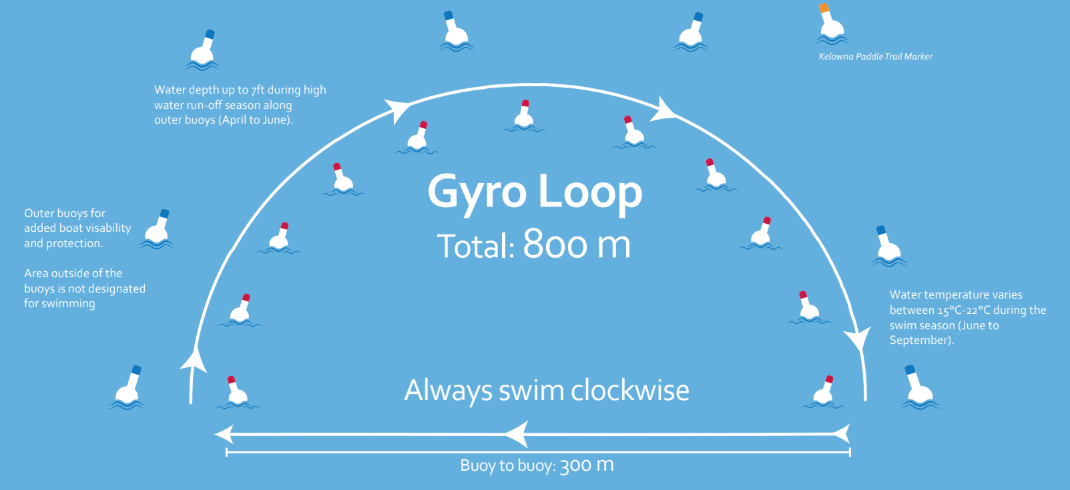 THE BASIC RULES & SAFETY GUIDELINES
Do not swim alone.  There are no lifeguards on duty. Let someone know that you are swimming here, and when you expect to be back.

Lock your valuables in your car, and consider swimming with a valet key stored inside your wetsuit. Leaving other personal effects on the beach is at your own risk.

Wear appropriate swim gear. For most swimmers, and for most of the season, that includes a well-fitting wetsuit and goggles, and a brightly colored swim cap for improved visibility. The use of a personal swim buoy is also recommended when there are boats active nearby.

Always swim clockwise, and stay to the left of the buoys to complete the full 800m distance. The buoys are 50m apart.

Be aware of your swimming environment (e.g., wind, waves, air and water temperature, water depth, current, watercraft, other swimmers). With any significant weather change, return immediately to shore.
A FEW USEFUL TIPS
Swimming in Okanagan Lake is most comfortable from late May to the end of September.  Outside of this period, the water temperature can dip below 15°C.
When swimming in cold water (below 15°C), consider using silicone (not latex) swim caps for extra head insulation, and consider double capping, or even a neoprene skull cap.  Limit your swim time to 30 minutes or less.
If you become a regular swimmer here, get to know Okanagan Lake. There is always a snowmelt spring runoff that adds a lot of cold water to the lake.  This outflow is usually maximal in May and June, and hence the lake is usually at its deepest at that time, and occasionally can be 6-7 feet deep at the outer parts of the loop (from the 150m to the 350m buoy).
For most of the rest of the swim season, the entire swim route is usually shallow enough to stand anywhere.
With the exception of windy days with significant waves, there is no measurable current here at the Gyro Loop.
The entire loop is usually completely clear of any weeds; but you may see occasional fish!
During the runoff period, there is often debris floating in the lake that you may swim into–usually branches, driftwood, leaves or other debris.  The water is usually cloudy at this time, with limited visibility.
When leaving the lake to return to your vehicle, use your swim cap to scoop up some lake water to take with you to your car, to wash the sand off your feet.
WHY OPEN WATER SWIMMING IS SO GREAT
 Many pool swimmers discover that they are more anxious in open water than in the confines of a pool.  This is normal, and speaks to the many differences that can add greater uncertainty to your swimming experience.
It is good to get comfortable with the many new variables that open water swimming presents, which adds confidence to your swimming.
Can you name at least a dozen differences between swimming in open water and a pool?  (The full list is here).
Developing your open water swimming ability here at Boyce-Gyro Beach will get you ready for the open water swim experience of most triathlons (such as Kelowna's Apple Triathlon), as well as the iconic Across the Lake Swim, a bucket list event if ever there was one.  You will also feel more confident being out on the water, whether boating, paddling, kiteboarding, or scuba diving.
Since the communities of the Okanagan have always been blessed with a huge lake along side  them, it only makes sense that getting comfortable in water, and particularly the open water of Lake Okanagan should be thought of as a life skill that every child should learn.
Check out our open water coaching pages, where you can find some basic open water swim workouts, find some info about  open water swim clinics held here every summer, or who to contact if you want some private coaching.